Photo: Ott Rebane / Flickr / CC BY 2.0
Bird beaks come in different shapes for different functions that are essential for survival.
Birds can be identified by the shape of and how they use their beaks.
Bird beaks are versatile. Their appearance depends upon the species' diet and habitat, and how they are used to obtain and consume food. A beak's design is to serve one or more purposes. These include the bird's ability to capture, probe, drill, filter, tear, or break apart food sources using its beak.
20 Types Of Bird Beaks And What They Eat
A beak or bill is the mouth and nose of a bird. They are shaped to function in species-specific ways so that they can survive.
The term "bill" is synonymous with "beak".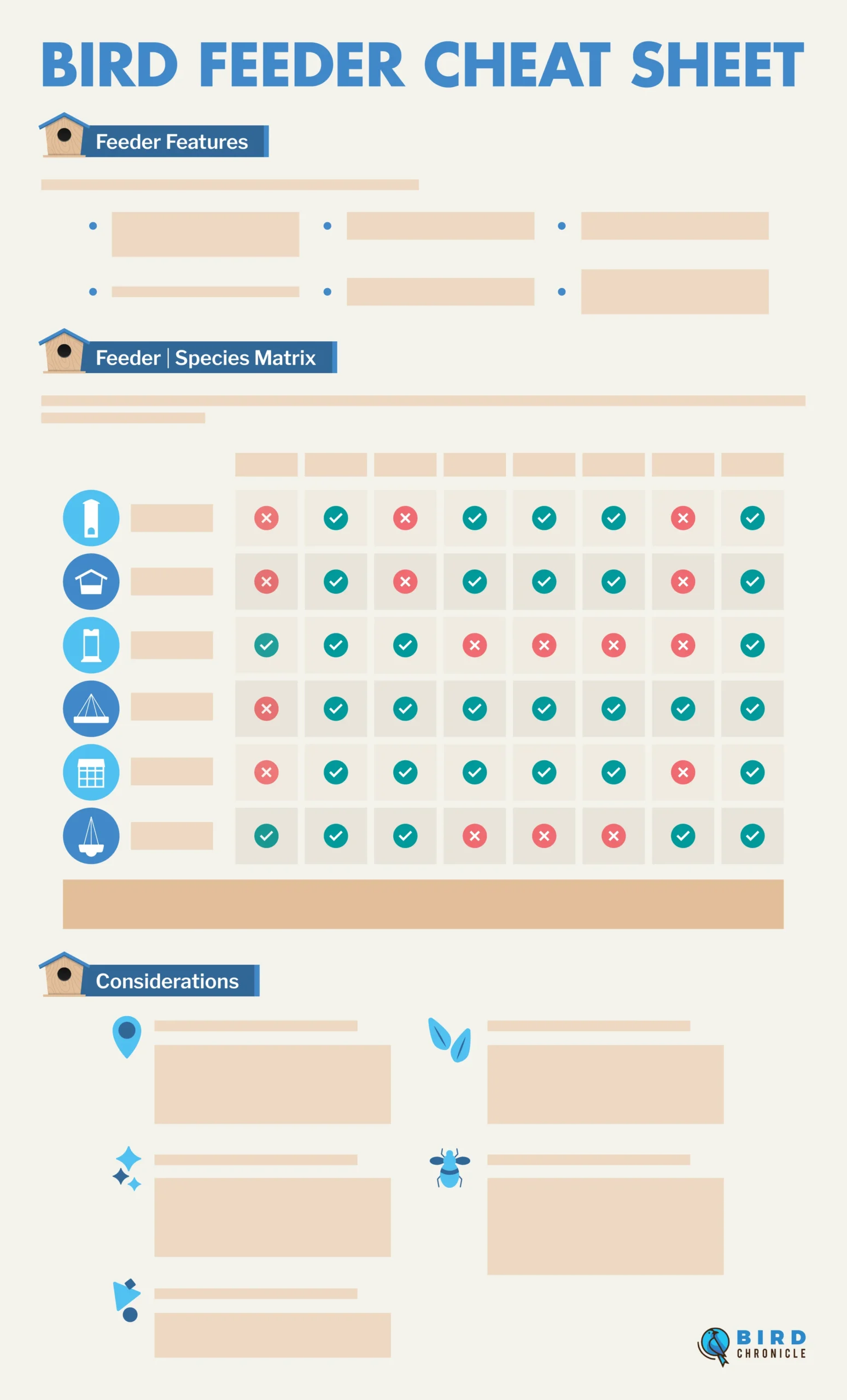 Get Our FREE Bird Feeder Cheat Sheet
Want more birds in your backyard? Get simple tips on attracting feathered friends and maximizing your bird feeding setup. Our free cheat sheet has got you covered!
Download The FREE Cheat Sheet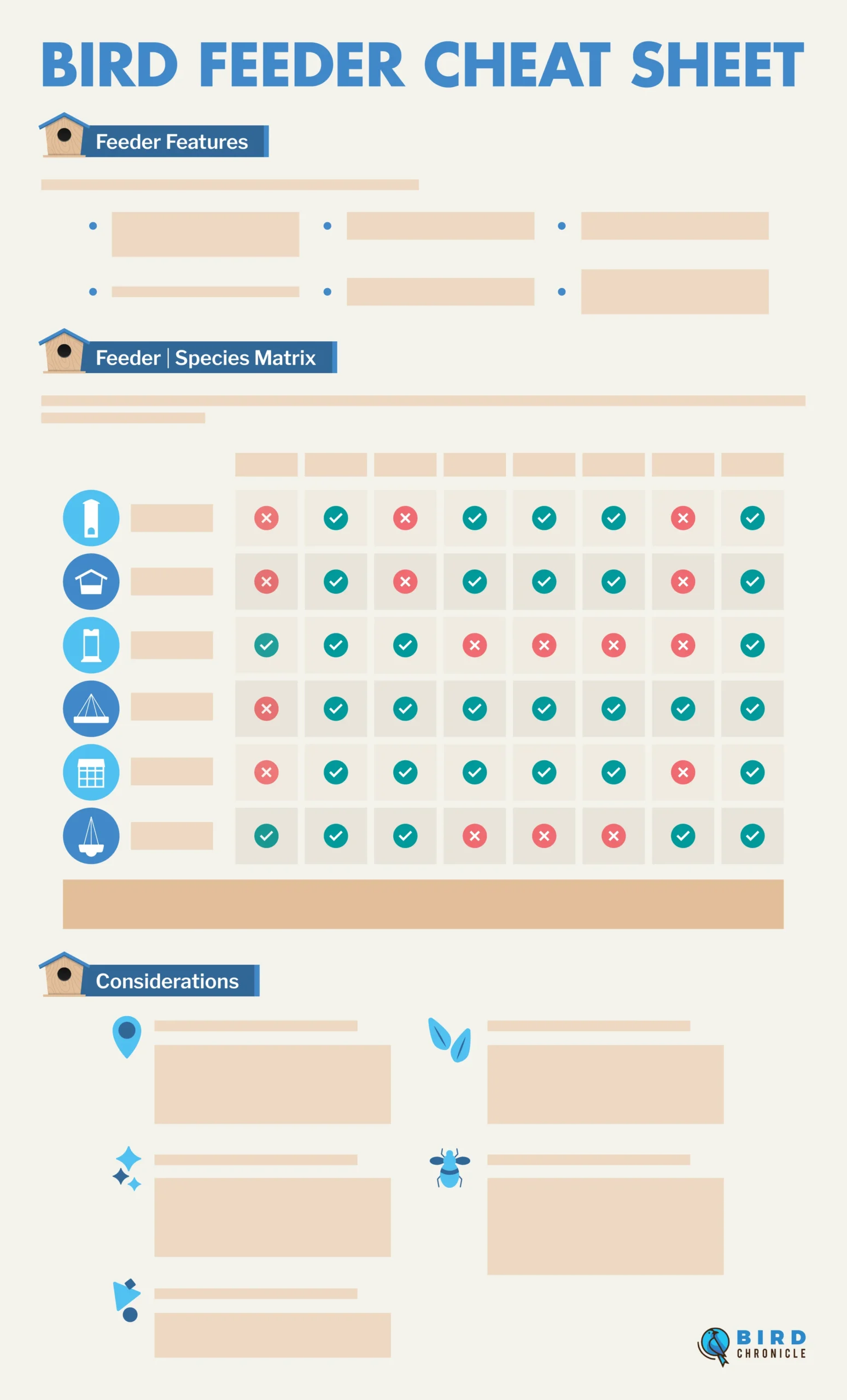 Ornithologists (bird experts) use the word "bill" more often for all birds. Whereas other people associate the term "bill" with waterfowl and "beak" to songbirds and other birds with pointed or hooked beaks.
Regardless of the term used, a bird's beak serves the following functions:
To obtain nutrition for eating and drinking species-specific diets

To feed their young

To preen (clean) their feathers

For defense

To build or excavate for shelter or nesting

Temperature regulation

To communicate
Bird's bills are a toothless, bone structure covered with a layer of connective tissue and protein cells that form keratin (much like human fingernails).
This keratin layer hardens and forms over the beak bones, wearing down and regrowing as the bird uses its beak.
The lower mandible (jaw) can move and in some species both the upper and lower move.
General Beak Shapes
A quick look at a bird's beak can help you determine what it likely eats.
Straight beaks catch fish and insects.

Hooked beaks tear and eat meat.

Conical beaks crush seeds.

Curved beaks help probe or dig for food.
As you read on, notice that some birds have multiple features of the following types for multiple functions.
Often it helps to observe what a bird is eating and its habitat to further determine what kind of beak it has.
1. Drilling Chisel-Tipped Beak
Birds with drilling beaks are capable of excavating wood with powerful hammering to create cavities (holes). These holes may be used for nests or to obtain insects inside the wood.
The chisel-tipped beak works in conjunction with the skull and muscles to absorb the impact of powerful drilling without bodily injury.
Birds with this type of beak may also use it to tap or drum on surfaces to communicate with other birds.
Woodpeckers (Picidae) are a type of bird that has drilling chisel-tipped beaks.
---
2. Tweezer-Tipped Beak
Slender tweezer-tipped beaks are found in gleaning birds that pluck insects precisely off of leaves, branches, foliage, and from crevices. They may even be seen gleaning insects off of living animals.
These birds primarily have a diet of insects or arthropods, thus needing bills that effectively and quickly help them to obtain nutrition.
Examples of birds with tweezer-tipped beaks are warblers (Muscicapidae), wrens (Troglodytidae), nuthatches (Sitta), and gnatcatchers (Polioptilidae).
---
3. Wide Flattened Beak
Some species of birds catch insects while flying in midair. Wide and flattened beaks allow them to have a greater surface area and success rate in catching insects.
Examples of birds with this type of beak are flycatchers (Tyrannidae), tree swallows (Tachycineta bicolor), purple martins (Progne subis), and nighthawks (Chordeilinae).
---
4. Tubular Beak
Hummingbirds (Trochilidae) have thin and long tubular straw-like beaks that act as a guide for their tongues to drink nectar.
Additionally, the hummingbird's lower beak can flex back and open up to 25 degrees to catch insects while flying midair in less one-hundredth of a second.
---
5. Hooked Beak: Flesh-Eating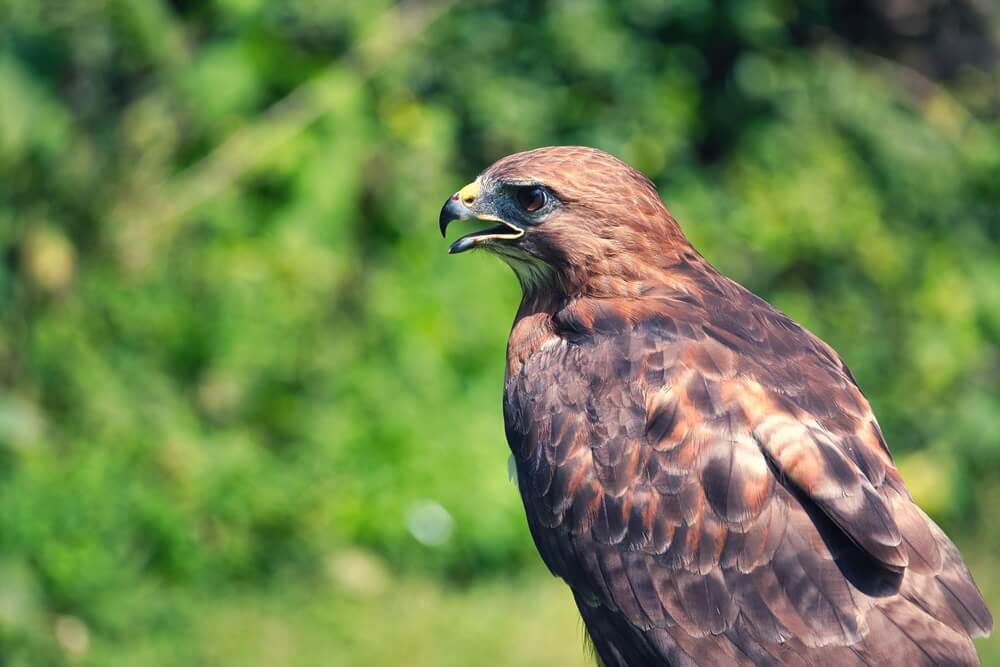 Flesh-eating birds, such as red-tailed hawks (Buteo jamaicensis), bald eagles (Haliaeetus leucocephalus), and great horned owls (Bubo virginianus), use hooked beaks to capture and kill prey.
Their beaks will injure the prey as well to rip it apart into smaller, bite-sized pieces.
Scavenger birds, such as vultures (Cathartes aura), are opportunistic feeders eating carcasses. Their hooked beaks are used for tearing flesh into smaller pieces.
Other birds such as shrikes (Lanius ludovicianus), and vireos (Vireonidae) have hooked beaks as well.
Birds with hooked beaks will eat prey such as small rodents and mammals, other birds, insects, lizards, and caterpillars.
---
6. Hooked Beak: Fruit-Eating
Fruit-eating (frugivorous) birds have larger bills in relation to their head size.
This large beak allows the bird to grasp, manipulate, and break apart fruit to get to the softer interior. These beaks present with a downward curve and hooked upper mandible for poking and tearing into fruit.
The upper mandible can move separately from the lower.
Fruit-eating birds with this type of beak include the following:
Parrots (

Psittaciformes

)

Parakeets (

Psittaculidae

)

Cockatoos (

Cacatuidae

)

Macaws (

Ara macao

)
---
7. Cone-Shaped Beak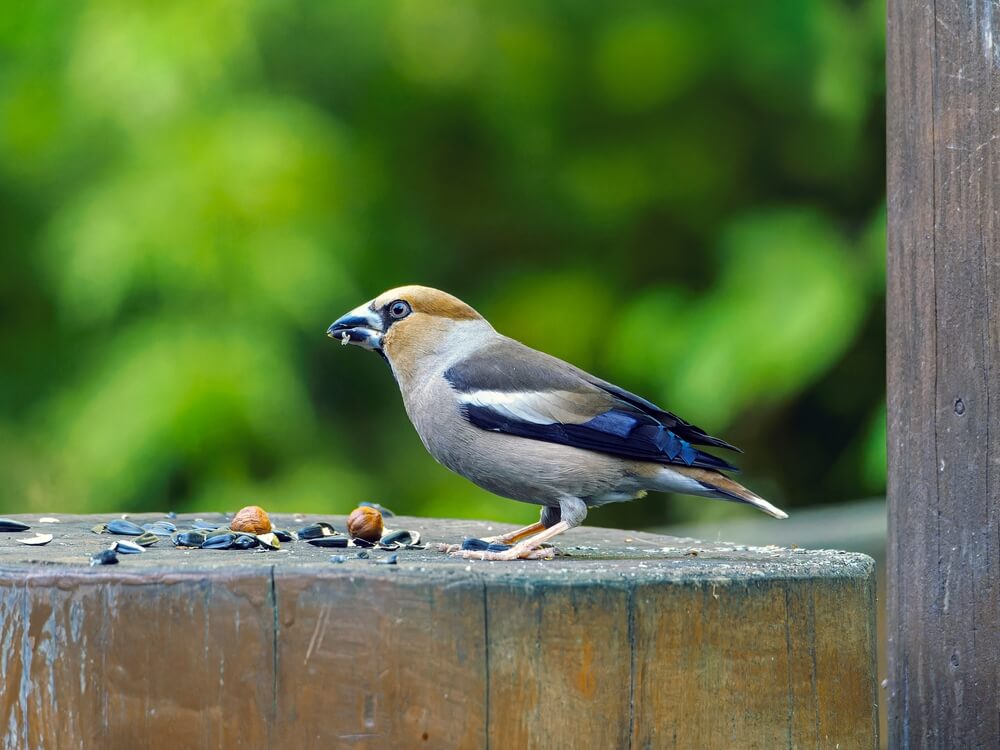 Birds with thick, short, cone-shaped beaks use them for cracking open seeds or eating grains.
Conical beaks have a special groove for holding a seed in place and applying pressure to crack it open. The bird then uses its tongue to separate the outer shell for the softer interior.
Seed-eating birds include cardinals (Cardinalis cardinalis), species of grosbeaks (Cardinalidae and Fringillidae), and finches (Fringillidae).
---
8. Scissor Bill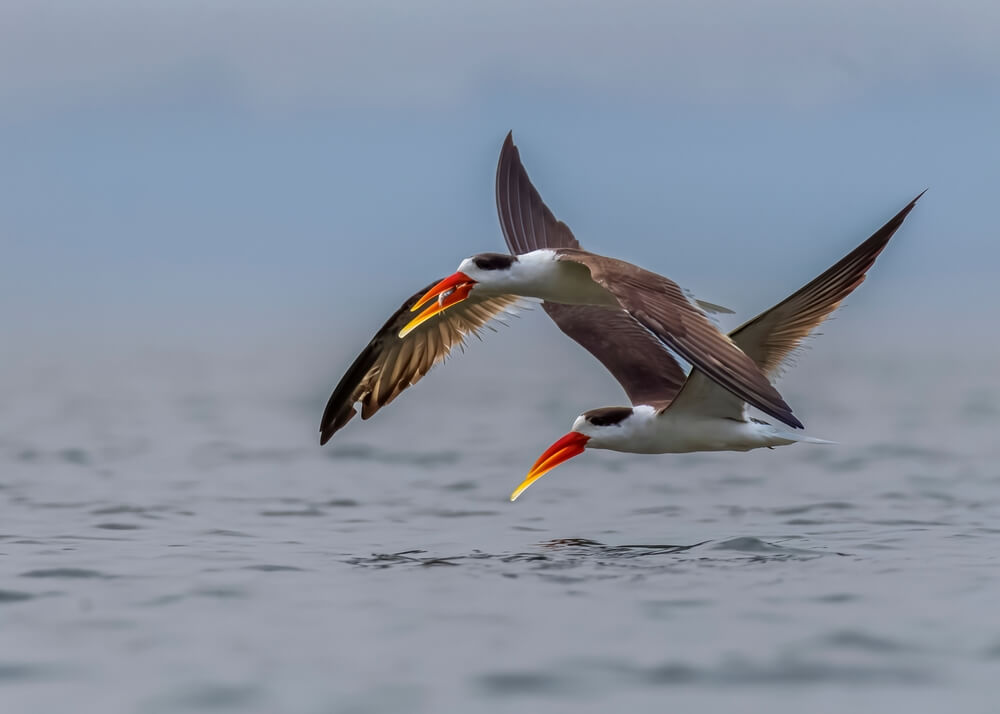 There are 3 species of skimmer birds that have scissor-like bills:
Black skimmer (

Rynchops niger

)

African skimmer (

Rynchops flavirostris

)

Indian skimmer (

Rynchops albicollis

)
These birds have knife-like, or scissor bills with a larger lower mandible, making it look like they have an underbite. Skimmers may also be referred to as "razorbill" or "cutwater".
The lower part of the bill skims the water as the birds fly low along the water's surface, scooping up prey.
Skimmers eat primarily fish, but will also eat squid, shrimp, crabs, and other small water animals.
---
9. Probing Beak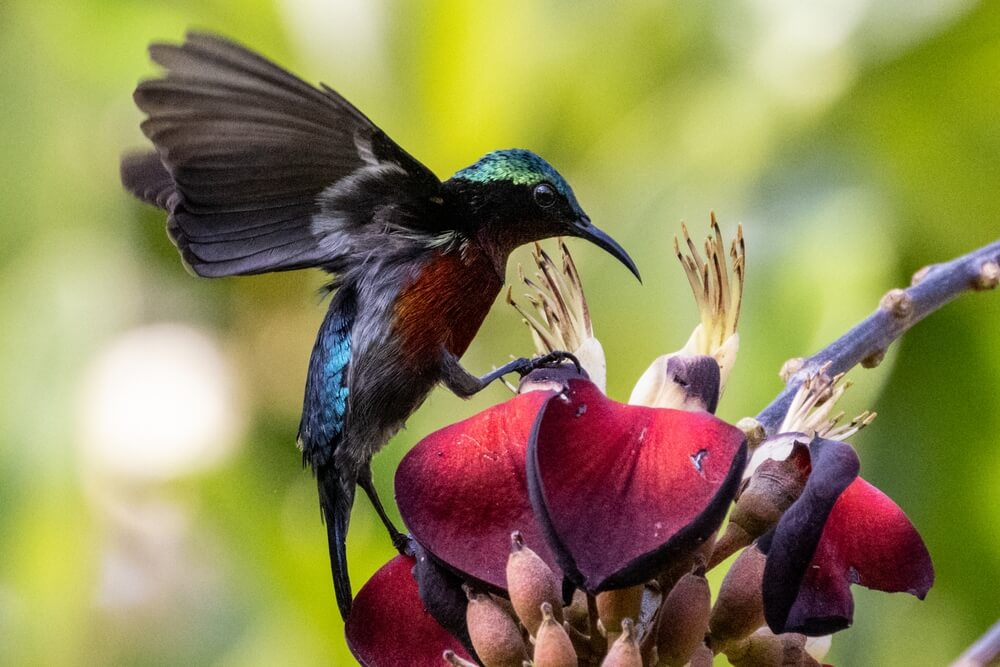 Probing beaks are long and thin, curving downward. This type of beak is used by birds to probe for food in soft ground, gravel, and mud.
Typically birds with a probing beak are consuming worms and small invertebrates burrowed in the ground.
Other probing beaks appear as tubular, working with long tongues to obtain nectar or honey. Some aquatic birds have this type of beak to eat snails, crustaceans, and moss.
Birds with probing beaks include sunbirds (Nectariniidae), spinebills (Acanthorhynchus), starlings (Sturnidae), curlews (Numenius), and honeyeaters (Meliphagidae).
---
10. Scythe Beak
An American avocet (Recurvirostra americana) is unique in that it has a long thin beak that turns upward.
It uses its beaks much like a scythe, sweeping back and forth, to forage for food.
These birds eat foods such as beetles, shrimp, and seeds from plant material when it wades in water.
---
11. Mandible Bill With Pouch (Dip Netting)
Some aquatic species of birds have a wide lower mandible. The upper mandible has a small hooked end.
These birds dip into and scoop up water prey, such as fish, into a net-like pouch extension, called a gular pouch. The upper mandible closes down holding the prey in place for consumption.
The bird will point its bill down to drain the water out. Then, it points it up to swallow the remaining fish.
Birds with a gular pouch are the brown pelican (Pelecanus occidentalis), cormorants (Phalacrocoracidae), and frigatebirds (Fregatidae).
---
12. Thick Dagger Bill
Herons and egrets of the Ardeidae family are birds that have long, thick dagger-like bills.
They make sudden jabs into the water to catch fish, crayfish, snakes, and frogs. Some birds will swoop down from the air to stab at and capture prey.
---
13. Swiss Army Knife Beak
The Swiss-army knife style of beak serves multiple functions.
It is a short, slightly curved, beak with a thicker upper mandible. This beak can crack nuts and seeds, catch insects mid-air, and spear fish.
The swiss-army knife beak is commonly seen on ravens (Corvus corax) and crows (Corvidae).
---
14. Generalist Beak
Generalist beaks are large, yet not adapted for a specific kind of food. They appear as a curved upper mandible with a smaller and flatter lower one.
A generalist beak allows birds to eat a variety of food and is often seen in omnivorous and opportunistic feeder birds.
Birds with generalist beaks include the following:
House sparrow (

Passer domesticus

)

Robin (

Turdus migratorius

)

Grackle (

Quiscalus

)

Magpie (

Pica Pica

)

Jays (

Corvidae

)
---
15. Filter-Feeding Beak
Birds with filter-feeding beaks use their bills like strainers. The bottom part of the bird's bill is submerged in water, leaving the upper half in the air.
This allows the bird to sift out mud, silt, and other materials, retaining foods to consume such as krill, crustaceans, fish, or shrimp.
Ducks (Anatidae), swans (Cygnus), and flamingos (Phoenicopterus) are types of birds that filter feed.
Interestingly, flamingos use their beaks upside down, submerging the top first into the water.
---
16. Spatulate Bill
Spatulate bills appear as long, flat, elongated beaks with spoon-shaped ends on them.
This bill allows the bird to crush food, as well as filter out mud, sand, and water. The bird will scoop up food, keeping its head above water.
Some birds will use a flat-splayed bill to pursue or chase fish, diving from above and down to fresh or marine waters.
This type of bill is seen in spoonbills (Platalea), shovelers (Spatula clypeata), and garganeys (Spatula querquedula).
---
17. Serrated Bill
A hooded merganser (Lophodytes cucullatus) has a narrow and small, tooth-like, serrated bill. The serrated bill helps to break up food.
This bird dives and uses its bill to catch aquatic insects, crayfish, and fish, and then swallows it whole.
---
18. Crossbill
Crossbills appear with similarly-sized upper and lower mandibles. These beaks may look deformed, since the extended tips make the mandibles cross over and under each other.
These types of beaks are seen in coniferous seed-eating birds which open pine cones to get the seeds inside.
Crossbill birds are named after their beaks which include the red crossbill (Loxia curvirostra), white-winged crossbill (Loxia leucoptera), and cassis crossbill (Loxia sinesciuris).
---
19. Shoebill
Shoebill storks (Balaeniceps rex) are a type of bird named after the unique shoe-like appearance of their bills.
Native to East Africa, these birds grow large beaks with sharp curved tooth-like tips.
These strong beaks also have sharp edges allowing them to kill prey such as lungfish, eels, Nile monitor lizards, and baby crocodiles.
---
20. Casque Bill
Birds with this type of bill have a subtle ridge or a noticeable knob along the top of their bills. The casques are covered in keratin, and are hollow and reinforced with a bony structure.
The casques of hornbills (Bucerotidae) make the calls of the birds louder. Deep and booming sounds can be heard as they forage for food and produce calls for mates.
Their bills are hooked and curved, much like flesh and fruit-eating birds. They break apart and tear into foods such as small mammals, birds, eggs, and figs.
This video discusses how birds' beaks are adapted to what they eat:
---
In Conclusion
A bird's beak is an essential part of its anatomy to eat foods specific to its diet, found in its natural habitat.
The versatility found in birds' beaks includes ones that appear curved, straight, long, short, thick, thin, or hooked. These various features allow the bird to capture, break apart, filter, and so on to consume food sources.
Beaks are also used for communication, defense, preening, nesting, and temperature regulation.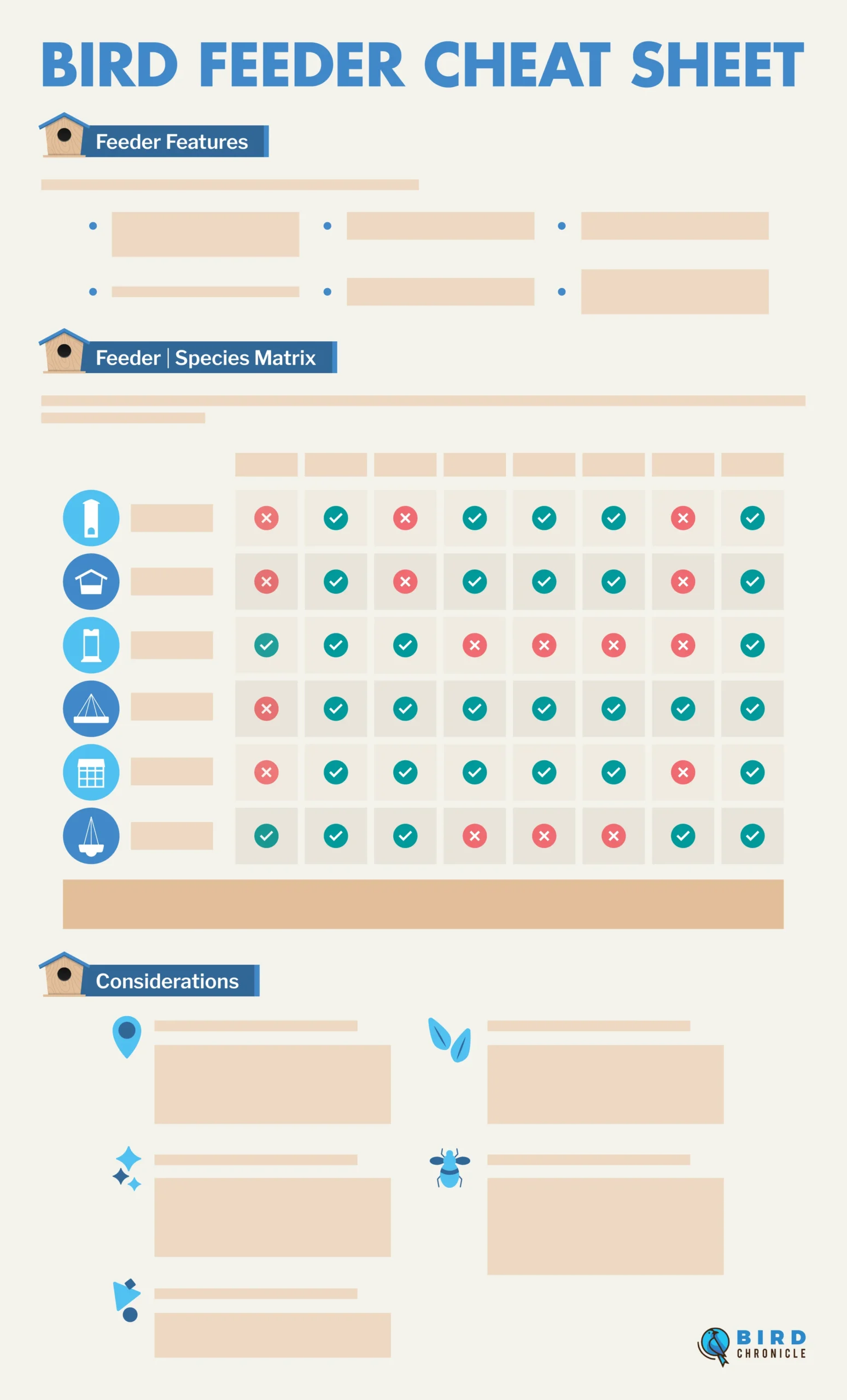 Get Our FREE Bird Feeder Cheat Sheet
Want more birds in your backyard? Get simple tips on attracting feathered friends and maximizing your bird feeding setup. Our free cheat sheet has got you covered!
Download The FREE Cheat Sheet